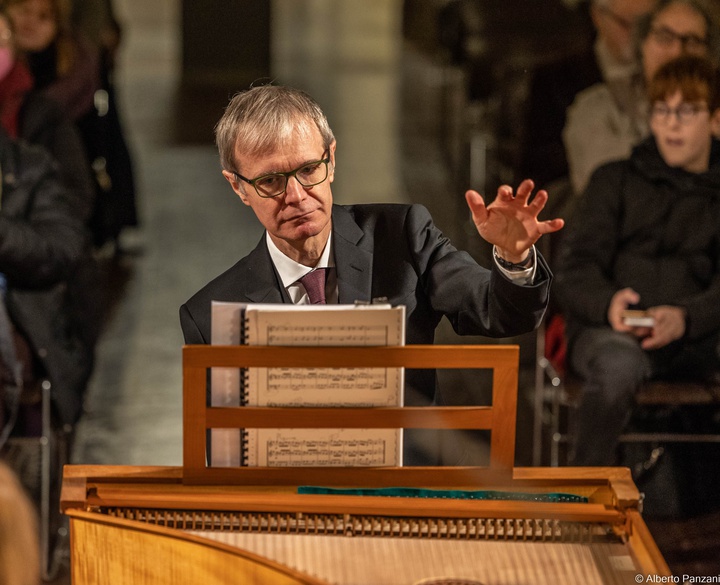 Fabio Bonizzoni is widely regarded as one of the foremost harpsichordists and organists of his generation, performing at some of the most prestigious venues and major European festivals, both as a soloist and with his orchestra La Risonanza, as well as guest conducting renowned Baroque and modern orchestras. In 2011, he conducted the Orchestra of the Teatro alla Scala in the world premiere of the ballet,L'altro Casanova.
At La Risonanza, Bonizzoni serves as the artistic and musical director, bringing his ideas to explore new repertoires and performance practices, and shaping the concert seasons in residence. His passion for teaching led him to develop the "EDU" activities, which aim to train young people and integrate them into the concert world.
From the start of his career, after studying under the renowned Ton Koopman, Bonizzoni has been deeply involved in recording, producing numerous albums dedicated to the Italian keyboard repertoire. He later involved La Risonanza in this recording activity, creating unforgettable series such as the one dedicated to Handel's Italian cantatas, which not only earned him international recognition but also a Gramophone Award. As a soloist, he has delved into the great repertoire, recording works such as Scarlatti's sonatas, Frescobaldi's toccatas and partitas, Bach's Goldberg Variations, and the Art of Fugue.
In recent years, he has collaborated with the Challenge Classic record company to produce recordings of Purcell's Dido and Aeneas, as well as two albums collecting Bach's concertos for harpsichord and orchestra. In a noteworthy collaboration with the accomplished violinist Ryo Terakado, he has undertaken the remarkable task of recording the complete set of sonatas for violin and obligato harpsichord by the legendary J.S. Bach. Their diligent efforts have culminated in the release of the second volume of this exquisite musical collection in March 2023.
Discography
Throughout my musical career, some of the most meaningful and memorable moments have been captured through recordings. I am pleased to share with you a comprehensive list of the many albums that I have been a part of - some of which I have recorded independently, while others were created in collaboration with a few close colleagues or with a large ensemble. As an active performer for many years, particularly with La Risonanza, there are indeed many recordings to my name - perhaps even an overwhelming number.