Programma
Grandi compositori, 'piccole' creazioni per flauto e violino, dal Barocco al Romanticismo.
L'apparenza inganna: è sorprendente come due soli strumenti riescano – grazie a virtuosismo, complicità̀, contrasto e scambio di ruoli - a dare vita a una così ampia palette di colori, suoni ed effetti, fondendosi in un dialogo sempre vivace ed entusiasmante e in una sinergia unica, fortissima, dal lirismo quasi romantico, capace di catturare, stupire e divertire tanto l'ascoltatore quanto l'esecutore stesso.
Joseph-Bodin de Boismortier (1689 - 1755)
Sonata in Sol maggiore, Op. 51/1
Andante - Presto - Siciliana - Allegro
Georg Philipp Telemann (1681 - 1767)
Duo in La minore TWV 40:125 da "second livre de duos"
Vivace - Moderato - Allegro
Carl Philipp Emanuel Bach (1714 - 1788)
Duetto per Flauto e Violino H. 568 da "Musikalisches Vielerley"
Andante - Allegro - Allegretto
Christian Cannabich (1731 - 1798)
Duetto in Sib maggiore, Op. 2 Nr. 5
Andante affettuoso - Allegro vivace
Wolfgang Amadeus Mozart (1756 – 1791)
Selezione di trascrizioni dell'epoca per flauto e violino
Alessandro Rolla (1757 - 1841)
Duetto in Sol maggiore, BI 247
Andante sostenuto - Allegretto

AMÜSANT
Lorenzo Gabriele flauto traverso
Rebecca Raimondi violino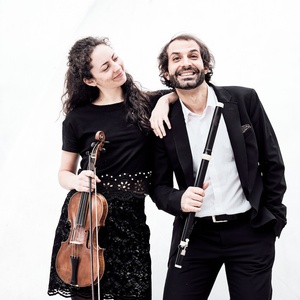 Info
Saturday 25 November 2023 17:30

City Milano

Fabbrica del Vapore Via Giulio Cesare Procaccini 4

Tickets Buy ticket
Discography
Throughout my musical career, some of the most meaningful and memorable moments have been captured through recordings. I am pleased to share with you a comprehensive list of the many albums that I have been a part of - some of which I have recorded independently, while others were created in collaboration with a few close colleagues or with a large ensemble. As an active performer for many years, particularly with La Risonanza, there are indeed many recordings to my name - perhaps even an overwhelming number.